VibrantSkin™ Ultrasonic Skin Scrubber
WANT CLEAR GLOWING SKIN?
The Ultrasonic Skin Scrubber is the newest generation of microdermabrasion. This device won't cause redness and doesn't require any downtime! It offers re-texturizing results using safe and gentle ultrasound vibration.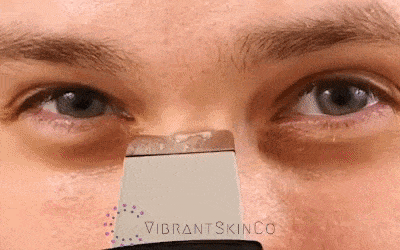 Using Vibrantskin™ Ultrasonic Skin Scrubber will improve these skin conditions with consistent usage:
Clogged Pores
Excess Oil
Blackheads and Whiteheads
Dry, flaky skin
Dull skin tone
Uneven texture
Polluted skin
It also provides an intense micro-massage to heat the skin tissue which, in turn, stimulates blood flow. The ultrasonic skin scrubber also helps aid in the penetration of skin care products into the deeper levels of skin tissue, accelerating blood circulation and strengthening skin tissue metabolism.
The end result? A reduction of fine lines and wrinkles!
Use the Vibrantskin™ Ultrasonic Skin Scrubber on the face, neck, chest, and especially on the pores on the nose. Instead of paying $50-$75 per treatment at a spa, treat yourself in the comfort and privacy of your own home.
THE #1 WAY TO KEEP YOUR FACE LOOKING CLEAN AND FRESH!
ULTRASONIC DEEP CLEANSING - High-frequency ultrasonic oscillation technology is transmitted to the skin's surface delivering instantaneous pressure and vibration. It's able to penetrate skin 3-5mm, effectively removes blackheads, dead skin, and dirt, allowing your skin to regain its clearness and cleanliness.
FIRMING AND LIFTING SKIN - Micro-current pulse technology can activate cell vitality, boost collagen regeneration, and help restore skin elasticity so that skin remains moisturized and firm. The device gently massages face and mobilizes subcutaneous muscles to help shape the facial contour.
HELPS SKIN TO ABSORB NUTRIENT - High-frequency vibration breaks down and refines larger molecules such as VC and collagen to help you massage your skin and easily absorb nutrients.
GUARANTEED RESULTS
After Just A Few Uses
HOW TO USE
DID YOU KNOW THE QUALITY OF YOUR SKIN HAS A MORE DIRECT EFFECT ON YOUR PERSONAL (AND BUSINESS) RELATIONSHIPS THAN ANY OTHER PART OF YOUR APPEARANCE?
Nasty substances are invading your face non-stop. Having a face covered in dirt, acne, blackheads, oil, and dead skin cells not only destroys your overall health, but it also alienates you, erodes your self-esteem, and causes additional stress in your life.
ARE FACIALS, SALONS, AND SPA TREATMENTS COSTING YOU A FORTUNE?
You just can't get rid of those whiteheads and comedones with cleansing foams. And it's unnecessary to spend hundreds or even thousands of dollars on facials, salons, and painful peeling treatments that lead to inflamed or reddish skin.
Treat yourself to the deepest cleansing possible in the comfort and privacy of your own home at a price that won't break the bank!
Made with stainless steel blade, Vibrantskinr™ Ultrasonic Skin Scrubber sends 30,000 Hz per second of ultrasonic waves that effectively loosen clogged pores and exfoliate the skin to remove dead skin cells, painlessly.
Note:
- Do not use this device around eyes, injured skin, dermatitis caused by cosmetics, acne inflamed parts, or reshaping parts.

- This device will have a low noise due to ultrasonic vibration, that is a normal phenomenon.

- Remember that this device must be used with skin cream or liquid, you can not use it under dry conditions.

- Children, pregnant women, and severe heart disease patients cannot use this device.

- Please keep your hands dry when using this device, otherwise, the power supply may be short-circuited

- After use, please wipe the probe with a dry cloth, and disinfect it by alcohol.
Specifications:
Material: ABS + Stainless steel
Input: 100-240V  50/60Hz
Output: 5V  1A
Power: 5W
Battery: 3.7V  500mAh
Charging time: 2 hours
Using time: 1 hour
Color: White
Size: 17.5*4.5*1.5cm (Length*Width*Thickness)
Weight: 182g
 
Package Content:
1x Skin scrubber
1x USB Charging cable
1x User manual (English)
---