VibrantUltra™ Anti-Cellulite Slimming Machine
THE WORLDS MOST EFFECTIVE SLIMMING SOLUTION!
Ultrasound Fat cavitation is becoming extremely popular. Doctors, Dermatologist, and even high-level Celebrities swear on its effectiveness. Local Beauty Centers charge hundreds for a single treatment – but VibrantSkinCo offers the home-based solution. Enjoy unlimited treatments and see results in a matter of days!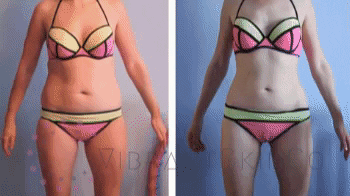 FEATURES
✔️ High-frequency vibration that instantly makes collagen fiber shrink and accelerates the decomposition of stubborn fat. 
✔️ 4 powerful modes - Brighten skin, burn fat, burst fat, and shaping mode.
✔️ Impressive shaping function generates heat which enhances burning fat and improves the appearance of cellulite.
✔️ LED light features high luminous energy that activates skin cells and improves the metabolism of cells.
This anti-cellulite massager uses RF (Radiofrequency) technology to heat up the fat cells. This will help reduce the appearance and visibility of cellulite and increases skin tightness.
6 REASONS WHY YOU NEED A CAVITATION MACHINE
1️⃣ Safe & Non-Invasive
The non-invasive alternative to liposuction can help you to eliminate local fat deposits without carrying any ugly risk. You can barely feel the sound-waves. No discomfort is caused, no needles, no repercussions. Everything happens through a natural process.
2️⃣ Convenient & Effective
VibrantUltra can be used in the comfort of your own home. Just 5-15 minutes of daily treatments can result in visible results immediately. Get rid of deposits that will not disappear with diet and exercise alone.
3️⃣ Scientifically Proven
Countless studies have proven the effectiveness of ultrasound fat cavitation and concluded that treatments can lead to lasting results in regard to the skin condition, fat deposits, and cellulite treatment.
4️⃣ Save Time And Money on Expensive Spa Sessions
VibrantUltra is priced at a fraction of the cost of a single spa treatment. Nonetheless, the technology and results are of the same level and you can even use it as often as you desire and enjoy all of the amazing benefits forever.
5️⃣ Unlimited Possibilities
Apart from fat spot reduction, cellulite treatment, and tightening, the VibrantUltra can be used to improve skin complexion and texture. Diminish smile lines and crow's feet - experience a natural face-lift. You can even use this device to massage and relieve pain in the back or neck area.
6️⃣ Fast & Easy
Reap the Benefits of Ultrasound Fat Cavitation instantly - do not waste months to see visible results. This device allows for handy daily application and therefore it has never been this easy to simply look your best. Invest in yourself and feel confident like never before. You deserve it!
HOW TO USE
RESULTS

FOX NEWS REPORT ON ULTRASONIC CAVITATION
When you receive your massager, please charge until it is fully charged. 
It is suggested to use no more than 3 times a week. 
This product is not waterproof, to clean massager use a soft cloth and wipe it clean. 
This massager is suitable for arms, abdomen, calf, thighs, and butt. This product is not suitable for the head, collar bone, neck or spine. 
If you feel unwell during the use of massager please discontinue use. (Pregnant women and people with skin disease should not use this product)
Keep out of reach of children. 
Package Includes:
1x VibrantUltra™ Anti-Cellulite Slimming Machine
1x Power Adapter & Cable
4x Electrode pads
1x English User Manual
ESTIMATED SHIPPING TIME
| | |
| --- | --- |
| United States | 4-12 Business Days |
| International | 7-14 Business Days |
Click ADD TO CART now to reduce fat, improve cellulite and rejuvenate your skin today!
---